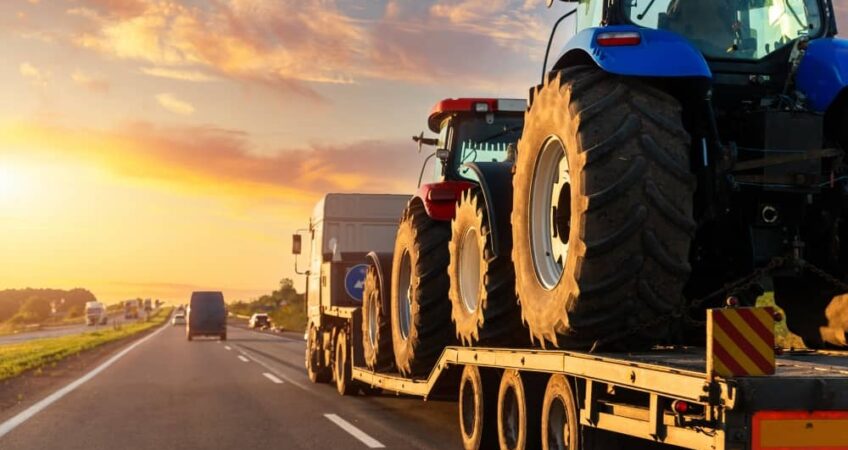 Heavy haulage refers to trucking services that specialise in carrying heavy loads. In Australia, this amount is defined as any truck that is over 4.5 tonnes of gross vehicle mass (GVM).
Heavy hauling provides a broad range of necessary services for a wide variety of industries. Read this article to learn more about:
Heavy haulage vs. regular haulage
Common uses for heavy haulage
How to know if your operation needs heavy haulage services
Other helpful information related to heavy haulage
What Makes Heavy Haulage Different From Regular Haulage?
What is heavy haulage? As the name suggests, one of the largest differences between regular haulage and heavy haulage is the weight that they are carrying. Heavy haulage is any combined truck and load weight over 4.5 tonnes in Australia. Because of their weight and size, these loads require specialised equipment to transport them, which typically consists of trucks and trailers that are designed to handle their weight, including:
Low loaders
Platform trailers
General-purpose trailers (like extendable and drop decks)
In heavy hauling situations, safety is of the utmost importance. Moving these kinds of loads demands care and expertise. Heavy hauling companies provide highly trained drivers who are experienced in moving oversized loads, fulfilling a key part of Australia's overall supply chain and infrastructure.
What is Heavy Haulage Used For?
Heavy hauling is utilised in many contexts, like transporting large and specialised equipment for industries like aerospace and agriculture. It makes it possible for wide-ranging transportation of supplies and equipment to occur while ensuring the safety of the public and the integrity of the load they're hauling.
Heavy haulers can transport a variety of equipment and machinery, such as:
Wind turbines
Farm machinery
Earthmoving machinery
Cranes
Mining equipment and accessories
Storage tanks
Heavy industrial components
Construction machinery
What Industries Typically Use Heavy Haulage Services?
So what industries utilise heavy haulage services the most? Here are five examples of industries that heavily rely on these services to support their operations:
1. Mining
One of the industries that uses heavy hauling the most is the mining industry. This industry often needs massive amounts of equipment and raw materials transported. However, the remote and specialised nature of this industry can often present logistical challenges. Heavy hauling provides a solution to these needs by facilitating the transport of machinery and ore to and from mining sites, ensuring that these are moved quickly and safely.
2. Agriculture
Another key industry for heavy haulage is the agricultural sector. This industry often deals with a large amount of specialised equipment (like tractors or combines), as well as requires the transportation of produce such as meat and grain. Without heavy hauling, the farmers would be unable to transport their harvested crops efficiently, which would quickly cause major disruptions to Australia's food supply.
3. Aerospace
The aerospace industry also often utilises heavy haul solutions. Aerospace operations often must transport oversized and heavy parts for aeroplanes or spacecraft, such as fuselages and engines. These parts often need to be moved multiple times before the full product is completed, including to locations like assembly plants or for necessary testing. Careful transportation of these materials is crucial to preventing damage or structural issues, which can compromise the finished product and cause serious safety issues.
4. Construction
The construction industry constantly utilises heavy hauling, since it relies on oversized equipment like cranes and bulldozers to accomplish their operations. They're also necessary for transporting the actual construction materials, like steel beams or concrete.
5. Energy
The energy industry deals with a lot of large equipment, like turbines, transformers, and generators. These parts must be moved and safely installed in power plants or other locations, many of which may be remote or quite far from where they were manufactured. Heavy hauling facilitates the safe carrying of these items, allowing energy operations to be expanded and improved.
Unique Challenges of Heavy Haulage
Heavy haulage can help simplify your business logistics, making it easier to expand your offerings and streamline operations as a whole.
So how do you know if heavy hauling is something that might benefit your business? Here are four common challenges that heavy haulage can provide a solution to!
1. Labour Shortages
Labour shortages can put a serious strain on any operation, regardless of the industry your business is in. If you're already struggling to meet your labour requirements, a common issue for many in 2023, it can be tough to find drivers who are trained in heavy equipment. Outsourcing your heavy hauling provides a solution to this, taking stress off your general labour pool and enhancing your operations.
2. Lack of Appropriate Equipment
Transportation of heavy materials requires specialised equipment, like trailers and low-loaders. However, if your company doesn't already have these on hand, obtaining them can be quite expensive. Hiring a heavy haulage company can help save you money since your business won't need to invest in costly hauling equipment.
3. Operational Costs
A heavy hauling company can help reduce your operational costs by providing specialised equipment and expertise and optimising your transportation routes, saving you time and money that would otherwise be spent planning. A heavy haul company facilitates the safe and efficient movement of your oversized loads, securing necessary permits and reducing the on-site resources needed for many businesses.
4. Expanding Operations
If your business operations are quickly expanding or you're working in a new location, heavy hauling can also provide necessary support during this time. A heavy haul company can help reduce your downtime by efficiently moving equipment from site to site (such as for construction businesses) and allowing you to reach your growth goals.
Australia Wide Haulage
Here at Australia Wide Haulage, we're committed to providing you with a safety-first, customer-centred solution to your heavy haul needs. We're experienced in moving a variety of equipment across an array of industries, including:
Mine site and remote location transport
East to west transport
Over-dimensional transport
Want to learn more about the services that we provide? Contact us today for a free quote!