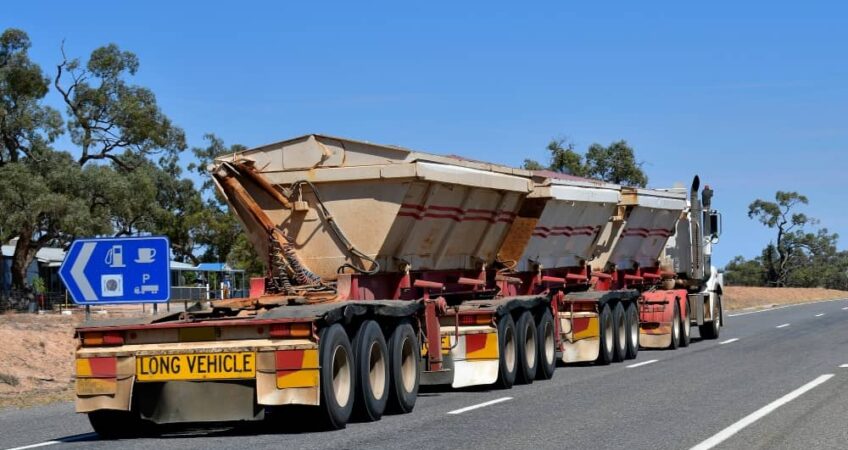 Trucks need trailers to transport different loads across the country. Trailers range from smaller flatbeds to large semi-trailers. They provide extra space to transport cargo while remaining connected to the truck unit. This allows fast and efficient cargo movement, saving business time and money.
Common Types of Trailers in the Trucking and Freight Industry
The trucking and freight industry relies on various types of trailers to transport goods and materials. The most common types of trailers include:
1. Pallet Freight
Pallet freight trailers are an invaluable asset to many businesses. They provide a quick and safe way to transport goods between locations. Pallet freight trailers can be loaded with multiple types of cargo, such as pallets, boxes, and large machinery. They come in various styles, sizes, and configurations to meet the shipment needs of any transport company.
Pallet freight trailers offer increased safety and security during transit. Their design allows easy loading and unloading, cutting time and labour costs. Pallet freight trailers are also weatherproof and durable, suitable for harsh transportation conditions. They also provide optimal protection against theft and damage during transit.
2. Parcel Freight
Parcel freight trucks offer a cost-effective way to move goods quickly. They transport small packages to large parcels and can carry loads up to 25 tons. Their advanced safety and security features include air suspension systems, sophisticated tracking technology, and reinforced cargo areas. They can also be customised to suit specific requirements such as climate control or refrigeration. For more information on refrigerated transport, check out Bossna Logistics.
3. General Freight Service
As a full-service logistics solution provider, Australia Wide Haulage offers customers a variety of truck and trailer options. Our trucks and trailers are reliable and efficient, allowing for prompt pickup and delivery of goods from origin to destination. They come equipped with features like air ride suspension systems and satellite tracking. These features ensure customers have access to the highest quality service available. We also provide value-added services, such as temperature-controlled transport, storage facilities, custom crating, and packing and warehousing solutions.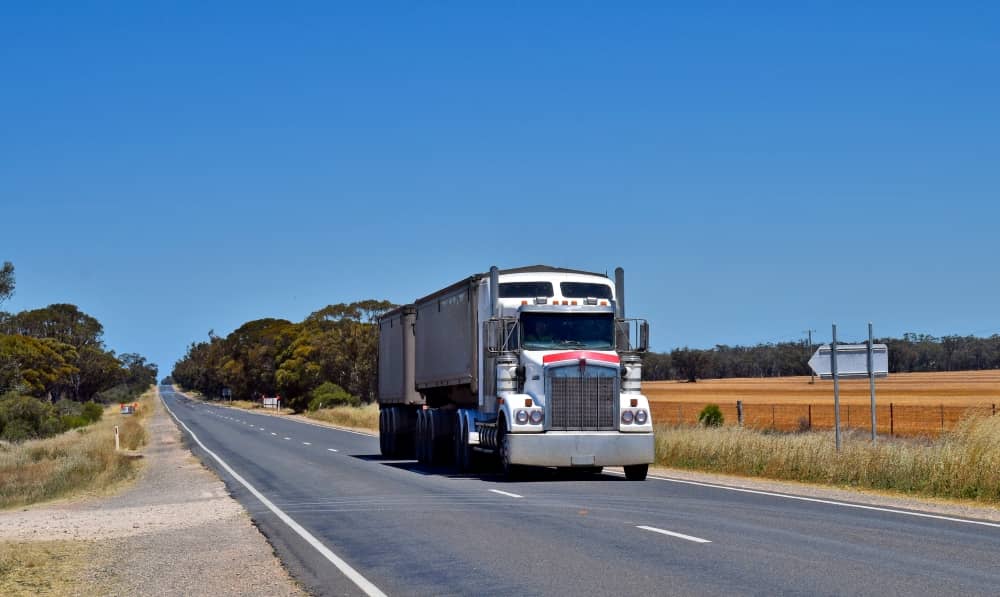 4. Single Semi Trailers
Single semi-trailers consist of one articulated unit, which includes the tractor and trailer connected by a fifth-wheel coupling. Semi-trailers have sturdy steel frames and feature extra bracing to provide stability while carrying heavier loads. The trailer part of a semi-trailer connects to a tractor that provides power and traction. This combination increases hauling capacity compared to traditional trucks, as the additional trailer can carry more weight. Single semi-trailers transport consumer goods like furniture and appliances to industrial items like building materials. These large vehicles also transport livestock and hazardous chemicals or materials.
5. Drop Decks
Drop deck trailers are versatile and useful. As their name suggests, they feature a lower deck than the rest of the trailer. This lowered deck increases cargo capacity by allowing taller, over-height cargo. The design also makes it easier to access the cargo, as it is lower to the ground and accessible from either side. Drop decks feature an aerodynamic design, increasing fuel efficiency when in transit.
6. Drop Decks with Ramps
Drop decks with ramps consist of a flatbed connected to a trailer with the floor lowered close to the ground and a ramp for easy access. Their helpful features include increased versatility, improved loading and unloading, more accessible access for delivery personnel, and improved freight security. Thanks to the low floor and ramp, drop decks with ramps can transport goods in tight spaces or areas with limited loading docks.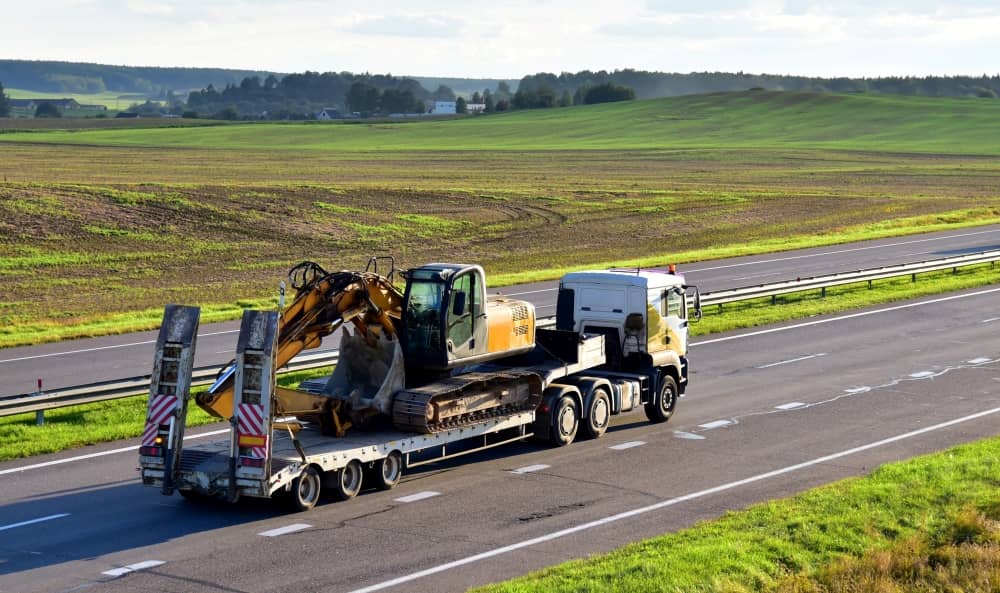 7. Drop Deck Extendables
Drop deck extendables are heavy-duty trailers with expandable decks for hauling large loads. Their features include adjustable ride and deck heights and torsion axles. The decks expand from the trailer's standard length to accommodate larger shipments. Extending the deck also reduces loading and unloading times, which is efficient for larger shipments. They are often used with flatbeds, allowing a quick transition from one type of trailer to another. This gives them maximum flexibility when hauling cargo.
8. Extendable Trailers
Extendable trailers are a type of trailer that extends in length during transit, allowing for greater cargo capacity. This type of trailer is often used to transport oversized cargo. Users can adjust the length of an extendable trailer anywhere from 20-40 feet, depending on the specific model. The extendable trailer features an expandable dry box that expands and contracts as needed. Extendable trailers are popular in the agricultural industry to transport produce or large farm equipment across state lines.
9. 50 Tonne Quad Spread Deck and Dolly
The 50 Tonne Quad Spread Deck and Dolly is robust and reliable heavy-duty equipment. It features four robust axles connected with a single deck and an integrated dolly, giving an incredible spread weight capacity of up to 50 tonnes. It is long-lasting and can tackle any terrain since it comprises solid steel. The Quad Spread Deck and Dolly are ideal for transporting oversized cargo, such as machinery, construction materials, and supplies.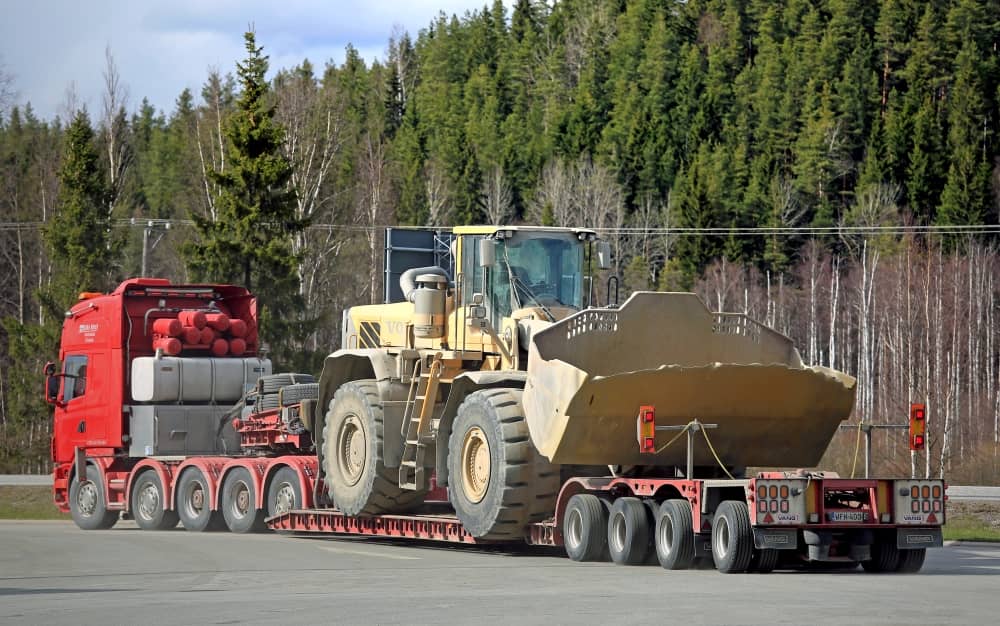 10. 75 Tonne Quad Spread Deck and Dolly
The quad spread deck design distributes the load evenly across its wheels, making it easier to transport heavier items. The deck also has a handbrake for added stability and safety when maneuvering. With their superior strength and durability, the 75 Tonne Quad Spread Deck and Dolly are ideal for heavy-duty transportation tasks.
11. Swing Lift
Swing lift trucks provide mighty lifting power and efficient movement of heavy materials. These vehicles feature a two-part system comprising a cab with an operator's station and an attached platform connected by a rotating joint. The joint allows the platform to move in any direction, making it ideal for working in tight spaces. Users can adjust the platform to the size and shape of various loads. Swing lift trucks can carry large, bulky items up to three stories high. They're perfect for loading docks and warehouses that need to move heavy materials.
12. B-Doubles
A combination of a prime mover towing two semi-trailers is called a B-Double. This is because the two trailers connect using a fifth wheel coupling, which creates a "B" shape when viewed from the side. The first semi-trailer attaches directly to the prime mover, and the second semi-trailer connects to the first through a converter dolly. This allows for more efficient use of space and a higher cargo capacity than traditional tandem trailers. B-Doubles are often used to transport dangerous goods, liquids, and other hazardous materials due to their increased safety features and stability. With the increased demand for cargo transportation, B-Doubles have become more common in Australia.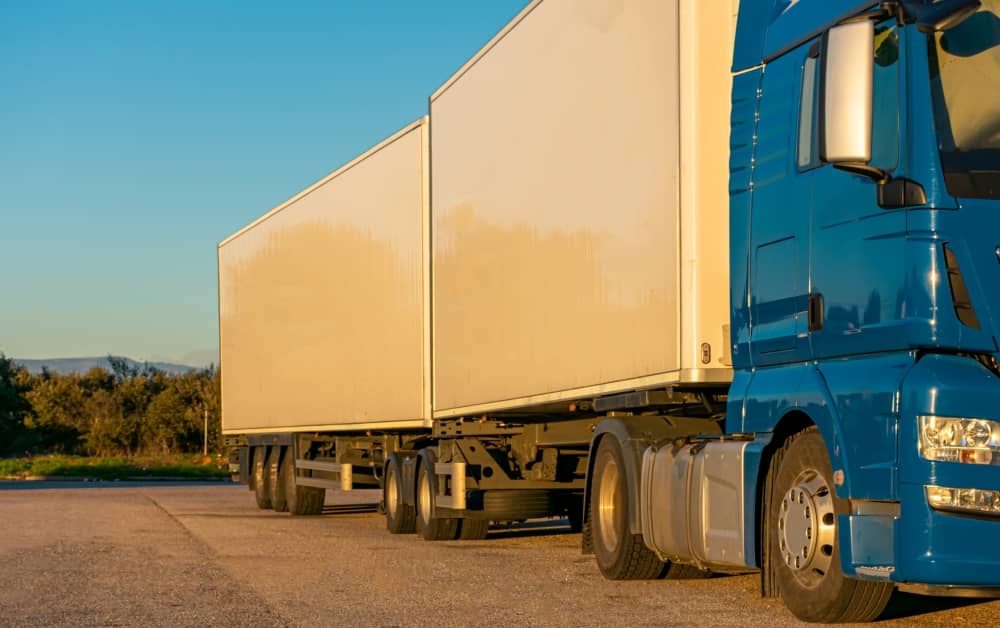 13. Oversize Road Train
Oversize Road Trains are large trucks used to transport oversized cargo. They consist of two trailers or more hitched together and pulled by a single tractor unit. Due to their size and weight, these vehicles can often be seen on highways, particularly in rural areas. Oversize Road Trains are 40-50 meters long, 4-5 meters wide, and can weigh up to 60 tons.
Due to the size of Oversize Road Trains, they require special permits to travel on public roads. Authorities provide these permits, which must be obtained before the vehicle can operate. The permits will specify the vehicle's route and any restrictions or requirements, such as speed limits. Oversized Road Trains transport large objects and machines, including agricultural machinery, construction equipment, wind turbines, and oil field infrastructure. They are also used for the transportation of military hardware and hazardous materials.
14. 2 & 3 Trailer Road Train
The two and 3-trailer road train consists of two or three semi-trailers connected by a fifth-wheel coupling and towed by a prime mover. The trailers can run on any paved road and have multiple axles depending on the moving load. They often transport heavy loads such as logs, machinery, and equipment. With a double or triple road train, you can move a large amount of material in one trip, thus reducing time and cost. The double-trailer road train is different from a B-doubles and triples because the former measures 36.5 meters and 35.0 meters the latter. In Australia, these trucks transport livestock, mineral ores, fuel, and general freight. Operators should follow strict regulations regarding weights, registration, and licensing as the Australian government demands. It is common in rural areas because of the efficiency and cost-effectiveness of carrying double or triple loads in a single trip.
15. Refrigerated Trailers
Refrigerated trailers are a vital part of the food supply chain. They allow safe transportation of temperature-sensitive items such as produce, dairy, seafood, and meats over long distances. These specialized trailers have cooling systems or refrigeration units that keep temperatures consistent. Refrigerated trailers can also be customised to fit specific cargo requirements, powered by electricity generated from the truck's engine or an external power source. By controlling the temperature and humidity levels within the trailer, food arrives at its destination in perfect condition.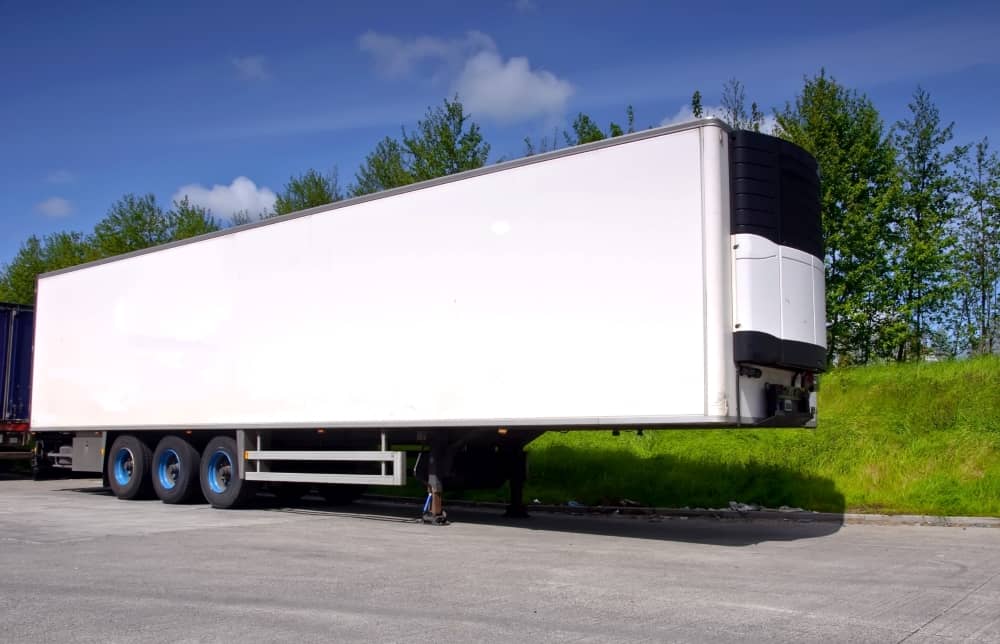 Contact Us For All Your Freight Needs!
Australia Wide Haulage is an experienced and reliable company providing haulage services throughout Australia. We have a fleet of trucks of all sizes and specialist equipment, making us ideal for any transportation needs.
Our drivers are highly experienced and trained to handle any cargo. We pride ourselves on our commitment to customer service, offering a personalised experience so that you have peace of mind knowing your goods are in safe hands. Our staff has a wealth of knowledge and experience, enabling us to provide the best quality service possible. Contact us today to discuss your haulage needs and find out how we can help.